Charter
: Chartularium Sangallense 03 (1004-1277) Nr. 947, S. 56-57
Signature
: Nr. 947, S. 56-57
Add bookmark
Edit charter (old editor)
(September 1187)
Erzbischof Konrad von Mainz erneuert die zwischen dem Kloster St. Gallen und dem Mainzer Domkapitel bestehende Gebetsverbrüderung.
Source Regest: Chartularium Sangallense III, Nr. 947, S. 56.
orig.
Current repository
: 
StA St. Gallen C.3.B.15.
Siegel oval ca. 7,5 cm hoch, stark besch., . . . RAD'.DI.GR . . . NENS . . . (Posse I, Tf 5/1).
Material: 
Pergament
Dimensions: 
30/18,5 cm
notes extra sigillum

: 

Rückvermerk (13. Jh.): Renovatio fraternitatis inter claustrum istud et Magvntinense sub Cvnrado Magvntinensi archiepiscopo facta et Vlrico venerabili abbate de Tegirvelt; (13./14. Jh.): Confraternitas Magunt(ine) ecclesie cum monasterio sancti Galli.
Graphics: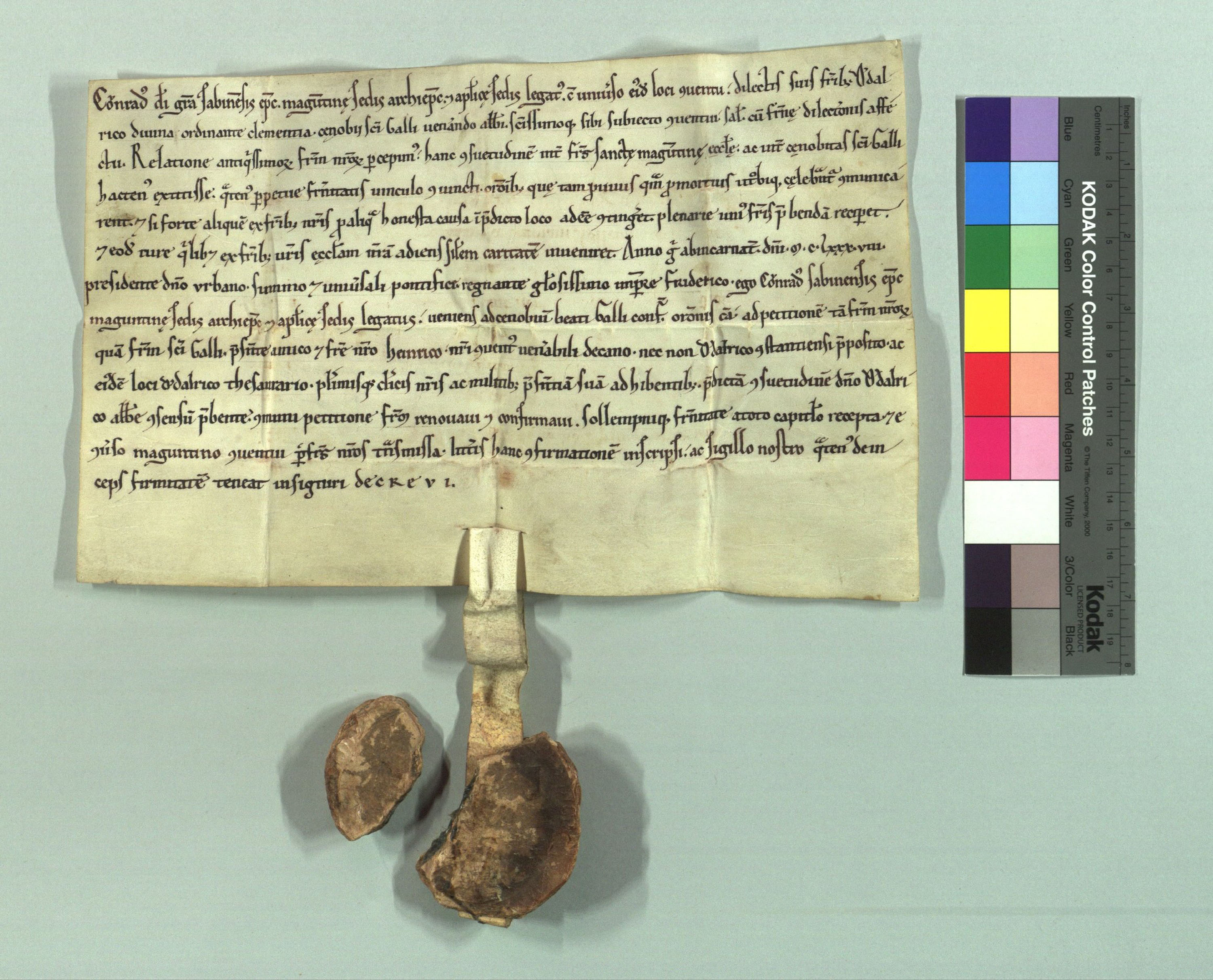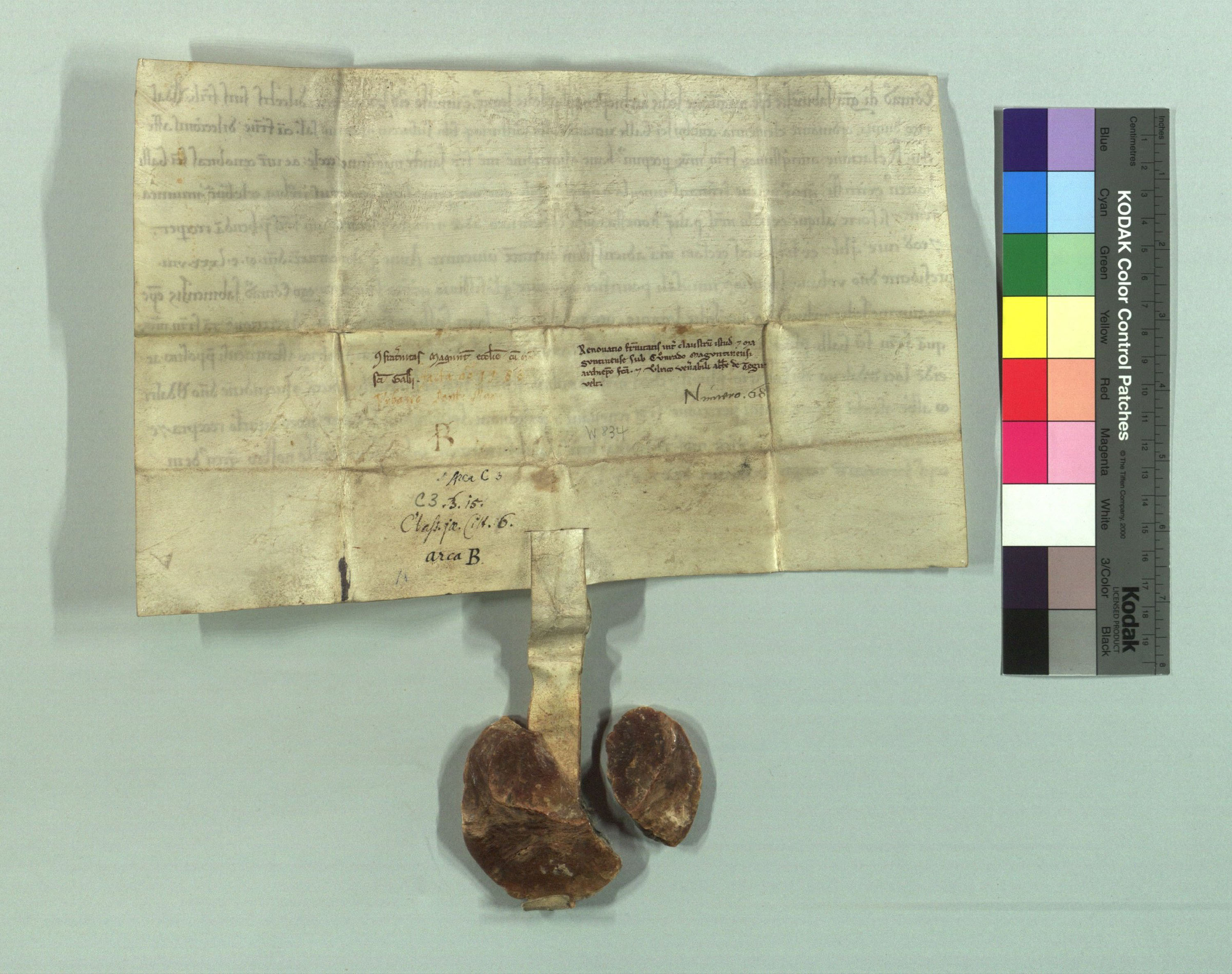 cop.
Abschr. (B), Ende 12. Jh., Stiftsbibl. St. Gallen, Cod. 453, S. 15.
x
Covnradus dei gratia Sabinensis episcopus Maguntine˛1 sedis archiepiscopus et apostolice˛ sedis legatus cum universo eiusdem loci conventu dilectis suis fratribus Odal||rico divinaa) ordinante clementia cenobii sancti Galli venerando abbati2 sanctissimoque sibi subiecto conventui salutem cum fraterne˛ dilectionis affe||ctu. Relatione antiquissimorum fratrum nostrorum percepimus hanc consuetudinem inter fratres sanct˛eb) Maguntine˛ e˛cclesie˛ ac inter ce˛nobitas sancti Galli || hactenus extitisse3, quatenus perpetuec) fraternitatis vinculo coniuncti orationibus, que tam pro vivis quam pro mortuisd) utrobique celebrantur, communicarent et, si forte aliquem ex fratribus nostris pro aliqua honesta causa in predicto loco adesse contingeret, plenarie unius fratris prebendam reciperet, et eodem iure quilibet ex fratribus vestris ecclesiam nostram adiens similem caritatem inveniret. Anno igitur ab incarnatione domini M.C.LXXX.VIII. presidentee) domino Vrbano summo et universali pontificef) regnante gloriosissimo imperatore Friderico ego Covnradus Sabinensis episcopus Maguntine˛ sedis archiepiscopus et apostolice sedis legatus veniens ad cenobium beati Galli confessoris orationis causa ad petitionem tam fratrum nostrorum quam fratrum sancti Galli presente amico et fratre nostro Heinricog) nostri conventus venerabili decano4 necnon Ovdalricoh) Constantiensi preposito5) ac eiusdem loci Ovdalricoi) thesaurario6 plurimisque clericis nostris ac militibus presentiam suam adhibentibus predictam consuetudinem domino Ovdalrico abbate consensum prebente communi petitione fratrum renovavi et confirmavi, sollempnique fraternitate a toto capitulo recepta et e converso Maguntino conventui perk) fratres nostros transmissa litteris hanc confirmationem inscripsi ac sigillo nostro, quatenusl) deinceps firmitatem teneat, insigniri decrevi.
Source Fulltext: Chartularium Sangallense III, Nr. 947, S. 56-57.
Editions
: 
Stiftsarchiv St. Gallen, Bd. 1, S. 1255 (Klosterdruck). - UB St. Gallen III,834 (nach A). - MGH Libri confrat. (1884), S. 143 (nach B). - Mainzer UB II (1971), 497 (nach A, mit Angabe älterer Drucke und Regesten).
Comment
Zum Datum: Das Jahr 1188 widerspricht dem Pontifikat Urbans III., der am 20. Okt. 1187 gestorben ist. Der erwähnte Aufenthalt des Erzbischofs in St. Gallen ist daher auf den Sept. 1187 anzusetzen. Für diese Zeit ist sein Aufenthalt am Bodensee bezeugt. Vgl. Mainzer UB II (1971), Vorbemerkungen zu Nr. 496 und 497.$$Geschrieben von einem Mainzer Notar (sein Anteil ist im Text kursiv wiedergegeben) und einem St. Galler Schreiber, der auch B eintrug. Die Mainz betreffenden Teile, besonders auch die Verpflichtungen, vom Mainzer Notar geschrieben, das Übrige vom St. Galler Schreiber. Die Urkunde ist so schon in ihrer äussern Gestalt ein Symbol der Verbrüderung.
Language
: 
Latein
Notes
: 
a) Folgt radierter Buchstabe, A. - b)sancte fehlt in B. - c)petue auf Rasur, A. - d)defunctis statt mortuis, B. - e)residente, dann p davorgesetzt, A. - f)e korr. aus i, A, B. - g)Heinrico auf Rasur, A. - h)l korr. aus r, A. - i)Odalrico fehlt in B. - k)p korr. aus t, über diesem Ansatz zu m-Kürzung, A. - l)quatinus, B. - 1 Konrad v. Wittelsbach, 1161-1165 u. 1183-1200; 1166-1199 auch Kardinalbischof v. Sabina. - 2 Ulrich IV. v. Tegerfelden, 1167-1199. - 3 Gebetsverbrüderung von (1109-1122), vgl. Will, Corr. bl. des Gesamtvereins (1878), Nr. 8/9, S. 61. - 4 Domdekan Heinrich II., 1171-1196. - 5 Dompropst Ulrich, 1185-1194. - 6 Domcustos Ulrich, (1183?) 1192-1211.
A click on the button »Show annotation« displays all annotations on the selected charter image. Afterwards you are able to click on single annotations to display their metadata. A click on »Open Image Editor« opens the paleographical editor of the Image Tool.