Charter
: Codex Diplomaticus Neerlandicus I/1, 1848 (Google data)  XX.
The transcription and metadata of this charter are scanned by a OCR tool and thus may have low quality.
Add bookmark
Edit charter (old editor)
1258
Zoen tusschen de steden Keulen en Utrecht. 1258. Maat t 23.
Source Regest: Codex Diplomaticus Neerlandicus, Nr. XX. , S. 19
ed.
Current repository
: 
Codex Diplomaticus Neerlandicus, Nr. XX. , S. 19
Graphics: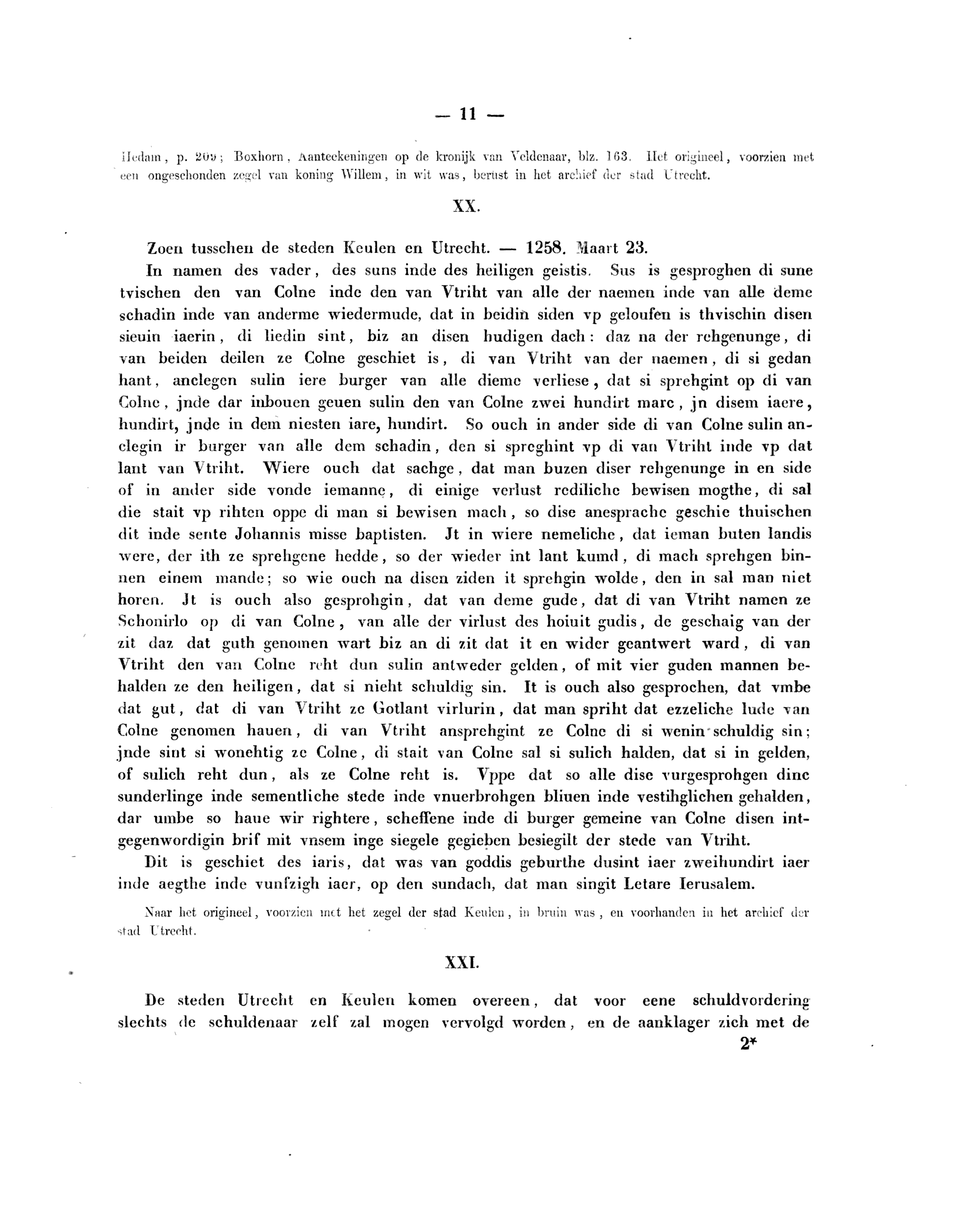 x
In namen des vader, des suns inde des heiligen geistis. Sus is gesproghen di sune tvischen den van Colne inde den van Vtriht van alle der naemen inde van alle deme schadin inde van anderme wiedermude, dat in beidin siden vp geloufen is thvischin disen sieuin iaerin , di liedin sint, biz an disen hudigen dach: daz na der rehgenunge, di van beiden deilen ze Colne geschiet is, di van Ytriht van der naemen, di si gedan hant, anclegcn sulin iere burger van alle dieme verliese , dat si sprehgint op di van Colne. jnde dar inbouen gcuen sulin den van Colne zwei hundirt mare, jn disem iaere, hundirt, jnde in dem niesten iare, hundirt. So ouch in ander side di van Colne sulin an- clegin ir burger van alle dem schadin , den si spreghint vp di van Vtriht inde vp dat lant van Vtriht. Wiere ouch dat sachge , dat man buzen diser rehgenunge in en side of in ander side vonde iemanne, di einige verlust rediliche bewisen mogthe, di sal die stait vp rihtcn oppc di man si bewisen mach , so dise anesprache geschie thuischen dit inde sente Johannis misse baptisten. Jt in wiere nemelichc , dat ieman buten Iandis were, der ith ze sprehgene hedde, so der wieder int lant kumd , di mach sprengen bin­ nen einem mande; so wie ouch na disen ziden it sprchgin wolde, den in sal man niet horen. Jt is ouch also gesprohgin, dat van deme gude, dat di van Vtriht namen ze Schonirlo op di van Colne, van alle der virlust des hoiuit gudis, de geschaig van der zit daz dat guth genomen wart biz an di zit dat it en wider gcantwert ward , di van Vtriht den van Colne reht dun sulin anlweder gelden, of mit vier guden mannen be- halden ze den heiligen, dat si nieht schuldig sin. It is ouch also gesprochen, dat vmbe dat gut, dat di van Vtriht ze Gotlant virlurin, dat man spriht dat ezzeliche lude van Colne genomen hauen, di van Vtriht ansprehgint ze Colne di si wenin'schuldig sin; jnde sint si wonehtig ze Colne, di stait van Colne sal si sulich halden, dat si in gelden, of sulich reht dun, als ze Colne reht is. Vppe dat so alle dise vurgesprohgen dinc sunderlinge inde sementliche stede inde vnuerbrohgen bliuen inde vestihglichen gehalden, dar umbe so haue wir rightere, scheffene inde di burger gemeine van Colne disen int- gegenwordigin brif mit vnsem inge siegele gegieben besiegilt der stede van Vtriht.
Dit is geschiet des iaris, dat was van goddis geburthe dusint iaer zweihundirt iaer inde aegthe inde vunfzigh iaer, op den sundaclt, dat man singit Lctare Ierusalem.
Naar liet origineel, voorzien met het zegel der stad Keulen , in bruin was , en voorhanden in het archief der stad Utrecht.
A click on the button »Show annotation« displays all annotations on the selected charter image. Afterwards you are able to click on single annotations to display their metadata. A click on »Open Image Editor« opens the paleographical editor of the Image Tool.