Charter
: Stift St. Maria im Kapitol A I 130
Add bookmark
Edit charter (old editor)
Äbtissin Irmgard van Schöneck und das Kapitel von St. Maria im Kapitol bekunden, dass Franco vom Horne und seine Ehefrau Ida von ihnen eine Rente von zwei Malter Weizen gekauft haben, wovon eine Memorie mit Messe, Vigil und Kommendation für Heidenrich von Lintlar, dem Onkel des Franco, zwei mal jährlich am Tag nach dem Remigiustag (3.10.) und am 6. April abgehalten werden soll, wobei jeweils ein Malter Weizen verbacken und an jede anwesende Kanonisse, Kanoniker und Vikar eine Semmel verteilt werden sollen sowie eine Semmel an Franco zu dessen Lebzeiten und nach dem Tod an den jeweils nächsten Erben geschickt werden soll. Bei Versäumnis der Memorie geht der jeweilige Malter Weizen an das Stiftshospital, worauf der Hospitalmeister achten soll.  
Seal
: 
Siegel des Stiftes "ad causas", beschädigt (Ewald, Rheinische Siegel, Bd. 4, Tafel 12, 3).
Material: Pergament
Dimensions: 32,8–33,1 x 18,7 cm
Graphics: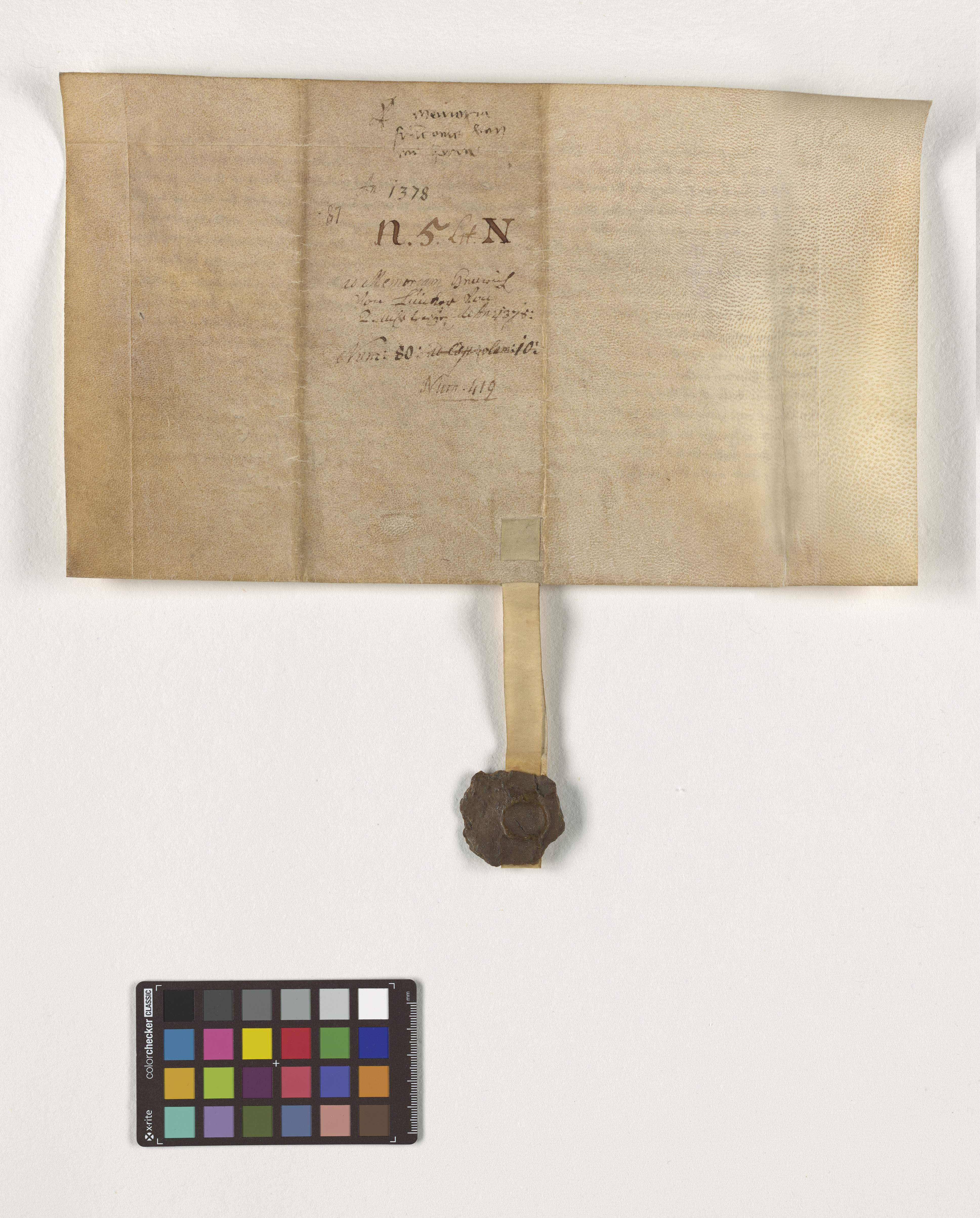 x
Wir Irmgard van Schoneck, van Gadis gnaden, ebdisse ind .. ghemeyne capittel der kirchen sent Marien im Capitolio zo Colne bekennen in diesen brieve, dat Francke vam Horne ind Ide syn elige wyf, burgere zo Colne, weder ons ind onse gadishuys recht ind redelichen umb eyn summe geltz, die ons wal bezalet is ind in urber ind nůtz ons gadishuys gekieret is, dar wir se ind ůr erven af quyt schelden havent, vergulden zvey malder weis colscher mazen zo nemen van onsme corenhuse, dar wir af doen solen ind gelaven zo doen memorie Heydenrichs van Lintler, des vorscr. Francken oem, dem got genedich si, mit missen, vigilien ind commendacien as in onsme gadishuse gewoentlichen is alle Jare in zvey terminen as des neisten dages na sent Remeis dage ind des sesten dages in dem Aprille of bynnen echt dagen vůr of na en igelichen termine vorscr. onbevanghen in dieser mazen, dat wir up en igelichen termine und memorie vorscr. solen doen backen eyn malder weitz na gewoenden ons gadishuse ind gheven ind deylen, dat ons .. jůnfren ind canonichen ind dem vikarisen ons gadishuses, die zo der ziit der vorscreven memorien tghegenwordich syn, en igeliche eyn semmel ind senden Francken vorscr. als langhe as hi levet ind na sime dode sime neisten erven eyn semmel mit alsus gedaenre vůrwerden ind pinen. W(ere) sache, dat wir of onse nakomelinghe versumelichen wůrden an der memorien vors. of an ghevynghe der zveyer malder weitz vors. up eynigen termine in eynichme jare in eyme deile of al, dat got verbiede, so solen wir gheven ind schuldich syn zo gheven dat malder weitz des termynes, den wir of onse nakomelinghe versůmeden, den .. armen ons hospitalis. Ind darvůr mach ons des selven hospitalis meister manen ind ansprechen vůr wilchme gerichte of richtere hei wil ind dar solen wir ind onse nakomelinghe on zo der stont af genůech doen sonder wederrede, al argelist usgesprochen. In gezuch der warheit alle deser sachen vors. haven wir mit onser alre wist onser kirchen sigel an diesen brief doen hanghen. Datum anno Domini M CCC LXX octavo crastino sancti Georgii.
Language
: 
Deutsch
Notes
: 
Alte Archivsignaturen: "87"; "N. 5, Lit. N"; "Num. 80"; "ad capsolam 10" (gestrichen); Num. 419 (unterstrichen).
Dorsalvermerk: "Memoria Franconis vanme Horne" (15. Jh.)
Dorsalvermerk: "Anno 1378"
Dorsalvermerk: "ad memoriam Henrich von Luicker von 2 m(a)l(te)r weitzen de anno 1378"
Bearbeiterin: Theresa Carlin (2018)
Places
Köln
St. Maria im Kapitol / Köln
x
A click on the button »Show annotation« displays all annotations on the selected charter image. Afterwards you are able to click on single annotations to display their metadata. A click on »Open Image Editor« opens the paleographical editor of the Image Tool.