Charter
: Stift St. Maria im Kapitol A I 175
Add bookmark
Edit charter (old editor)
Äbtissin Iburgh von Dadenberg und das Kapitel von St. Maria im Kapitol haben von Meister Heinrich von Bemel, Kanoniker von St. Cäcilien in Köln, Treuhänder des verstorbenen Kanonikers von St. Maria im Kapitol, mag. Johann Herinx von Goch, 50 rheinische Gulden zu je 3 Mark und 5 Schilling erhalten. Dafür verkaufen die Aussteller eine Rente von 2 Malter Weizen von ihrem Stiftshof in Widdersdorf, wofür sie jährlich am Laurentiusabend (9.8.) eine Memorie mit Vigil, Messe und Kommendation für Johann Herinx begehen, mit näher beschriebener Verteilung von Präsenzgeldern. Im Falle einer Versäumnis der Memorie soll je ein Malter Weizen an das Stiftshospital und das Heiliggeisthospital auf dem Domhof gehen.  
Seal
: 
2. Siegel des Stiftes "ad causas" (Ewald, Rheinische Siegel, Bd. 4, Tafel 12, 3).
Material: Pergament
Dimensions: 31,5 x 21,9–22 cm
Graphics: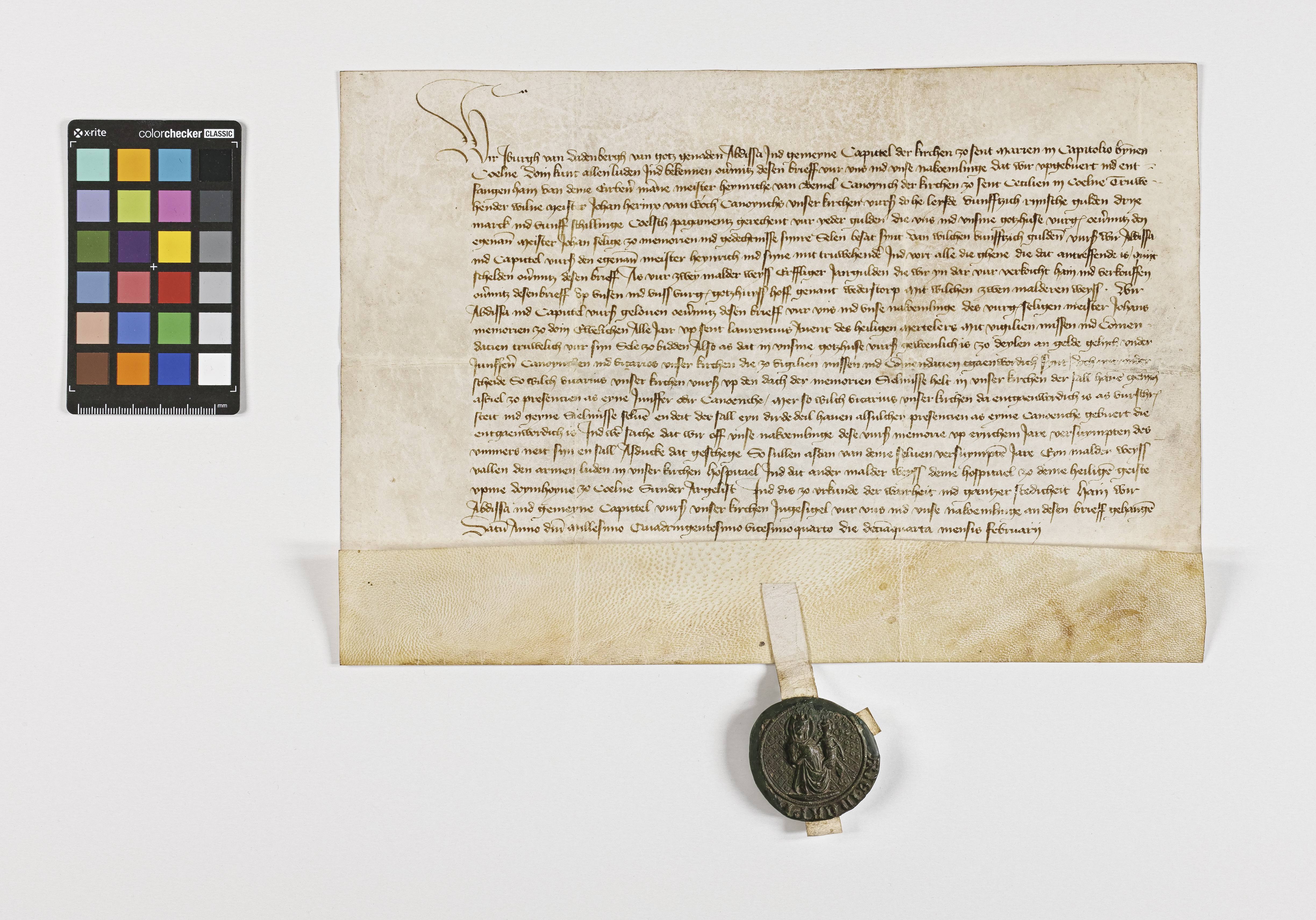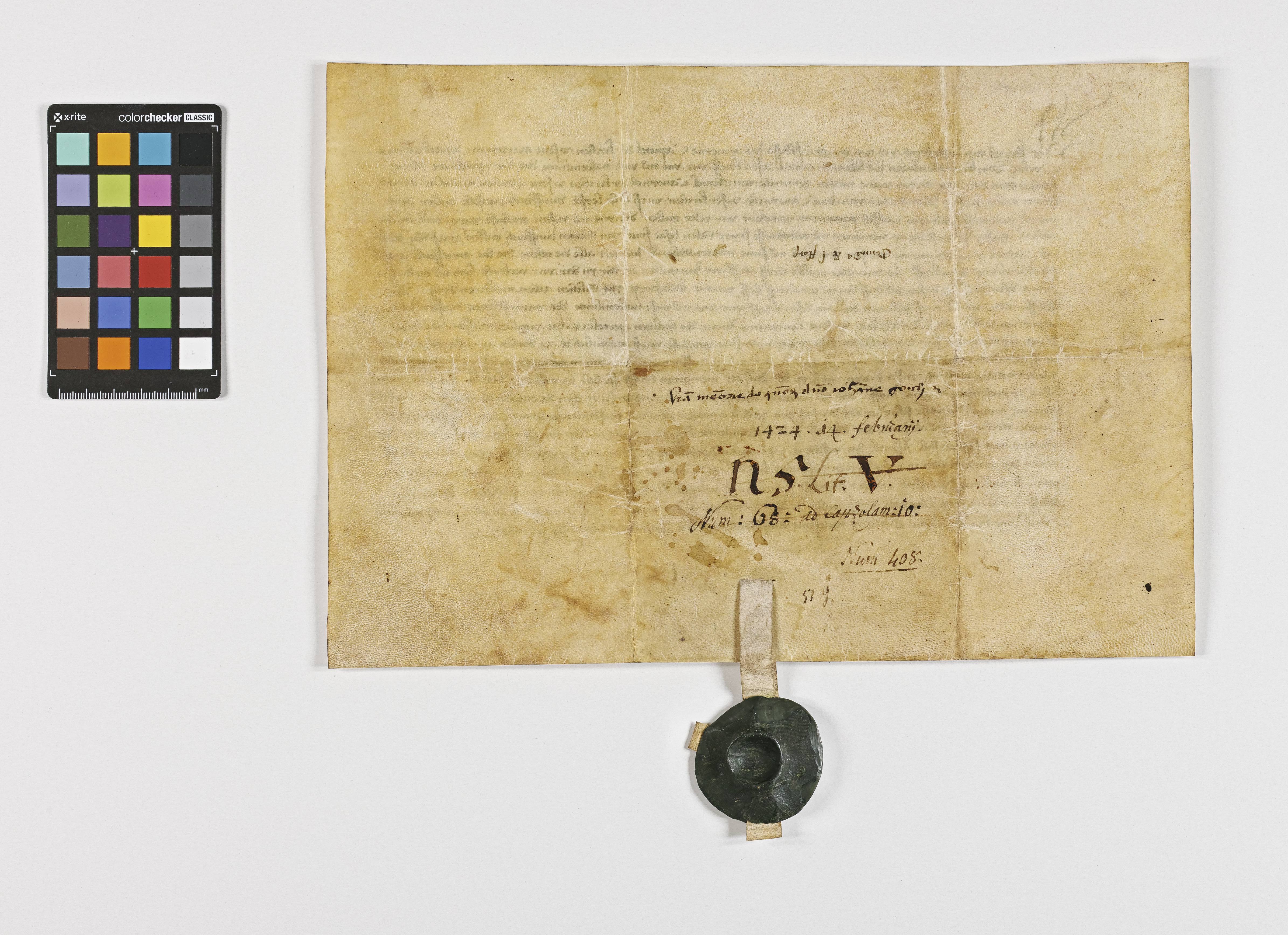 x
Wir Iburgh van Dadenbergh von gotz genaden abdissa ind gemeyne capittel der kirchen zo sent Marien in Capitolio bynnen Coelne doin kunt allen luden ind bekennen overmitz desen brieff vur uns ind unse nakoemlinge, dat wir upgebuert ind entfangen hain van deme eirberen manne meister Heynriche van Bemel, canoynch der kirchen zo sent Cecilien in Coelne, truwehender wilne meister Johan Herinx van Goch, canoynchs unser kirchen vurs. do he leyfde, vunffzich rijnsche gulden, drye marck ind vunff schillinge coelsch pagametz gerechent vur yeder gulden, die uns ind unsme gotzhuse vurg. oevermitz den egenan(ten) meister Johan selige zo memorien ind gedechtnisse sijnre selen besat synt van wilchen vunfftzich gulden vurs. wir, abdissa ind capittel vurs., den egenan(ten) meister Heynrich ind sijne mittruwehendere ind vort alle die ghene, die dat antreffende is, quiit schelden overmitz desen brieff, as vur zwey malder weyss erffliger jairgulden, die wir yn darvur verkoicht hain ind verkouffen overmitz desen brieff up unsen ind unss vurg. gotzhuyss hoff, genant Wederstorp, mit wilchen zwen malderen weyss wir abdissa ind capittel vurs. geloven oevermitz desen brieff vur uns ind unse nakoemlinge des vurg. seligen meister Johans memorien zo doin ewelichen, alle jair up sent Laurentiusavent des heiligen mertelers mit vigilien, missen ind commendacien truwelich vur sijn sele zo bidden, also as dat in unsme gotzhuse vurs. gewoenlich is zo deylen an gelde gelijch under junfferen, canoynchen ind vicarios unser kirchen, die zo vigilien, missen ind commendacien tgaenwordich synt, doch nyt underscheide so wilch vicarius unser kirchen vurs. up den dach der memorien sielmisse helt in unser kirchen, der sall haven gelijch asviel zo presencien as eyne junnffer odir canoenche, mer so wilch vicarius unser kirchen da entgaenwordich is as vurschr. steit ind geyne sielmisse selven en deit, der sall eyn dirde deil haven alsulchen presencien as eyme canoenche gebuert, die entgaenwordich is. Ind were sache dat wir off unse nakoemlinge dese vurs. memorie up eynchem jare versuympten, des ummers neit sijn en sall, asducke dat geschege, so sullen asdan van deme selven versuympten jare eyn malder weyss vallen den armen luden in unser kirchen hospitael ind dat ander malder weyss deme hospitael zo deme heiligen Geiste upme Doymhoyve zo Coelne sunder argelist. Ind dis zo urkunde der wairheit ind gantzer stedicheit hain wir abdissa ind gemeyne capittel vurs. unser kirchen ingesigel vur uns ind unse nakoemlinge an desen brieff gehangen. Datum anno Domini millesimo quadringentesimo vicesimo quarto die decimaquarta mensis februarii.
Language
: 
Deutsch
Notes
: 
Alte Archivsignaturen u.a. "N. 5, Lit. V" (gestrichen); "Num. 68, ad capsolam 10" (gestrichen); "Num. 408" (unterstrichen).
Dorsalvermerk: "Quitancia de l flor." (15. Jh.); "Littera memorie de quondam domino Iohanne Goich" (15. Jh.)
Bearbeiter: Jan Bäsecke / Anna Koch (2020)
Places
Köln
St. Maria im Kapitol / Köln
x
A click on the button »Show annotation« displays all annotations on the selected charter image. Afterwards you are able to click on single annotations to display their metadata. A click on »Open Image Editor« opens the paleographical editor of the Image Tool.