Charter
: Urkunden Domkapitel (1246-1606) A VI 4 [2]
Add bookmark
Edit charter (old editor)
1434 Juni 29
Der Dompropst in Hildesheim Eckart von dem Hahnensee bestätigt den Verkauf und die Übertragung der halben Mühle in +Hohnsen durch den Domkellner Burkhard Steinhoff an den Pfennigschreiber beim Dom Heinrich Freimann und seine Erben. Der Zins von der Mühle beträgt viereinhalb Fuder Weizen, zu gleichen Teilen zu Ostern, Johannis, Michaelis und Weihnachten zu geben, außerdem gibt der Domdekan den Inhabern der Mühle zu Cosmas und Damian vier Schweine, diese sollen ein fünftes, gleichwertiges hinzugeben und die fünf bis zum Thomastag für die Dompropstei mästen. Alle diese Abgaben sollen Heinrich Freimann und seine Erben zur Hälfte tragen.  
Material: 
Perg.
Dimensions: 
25,0 x 12,0 cm
Graphics: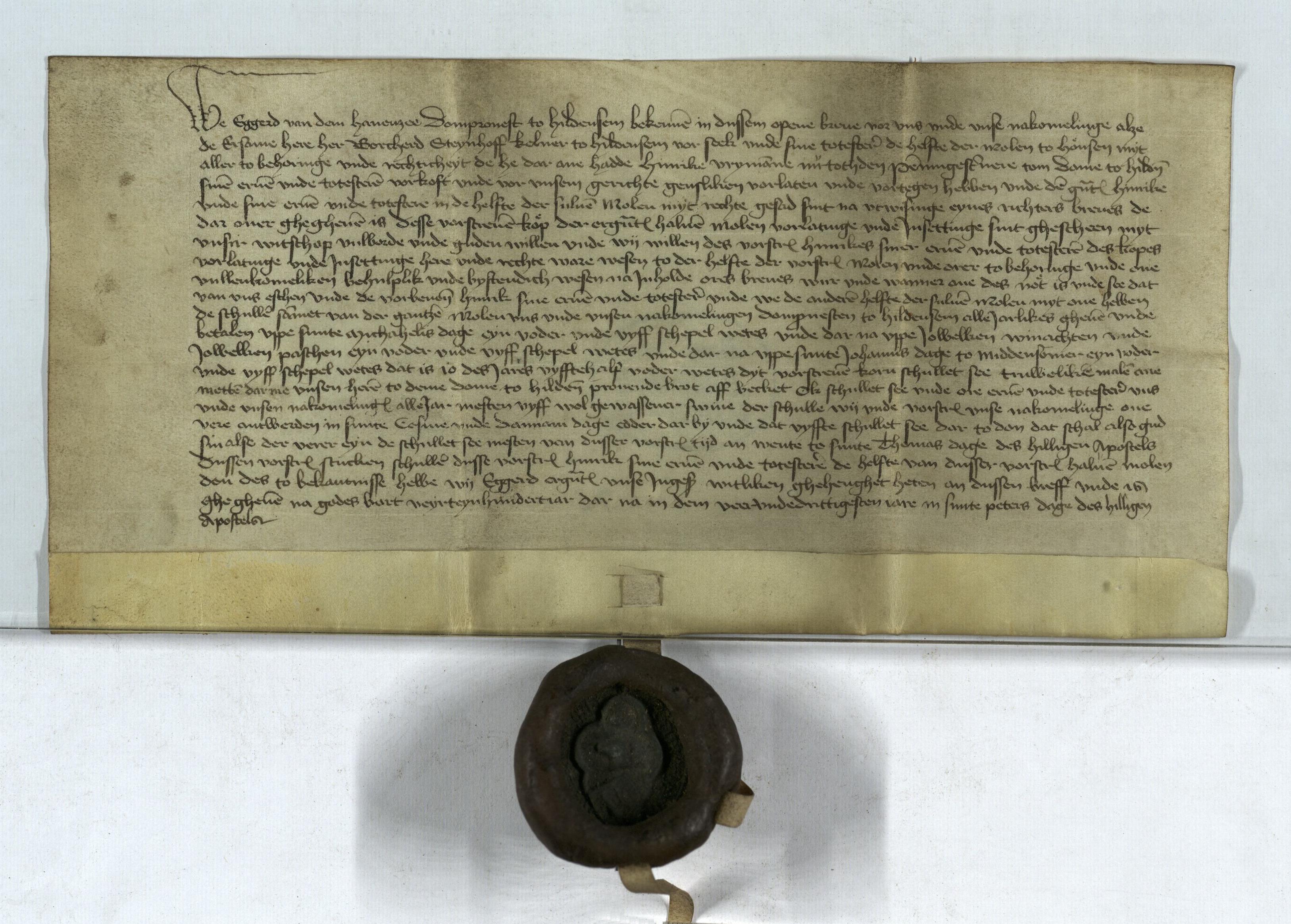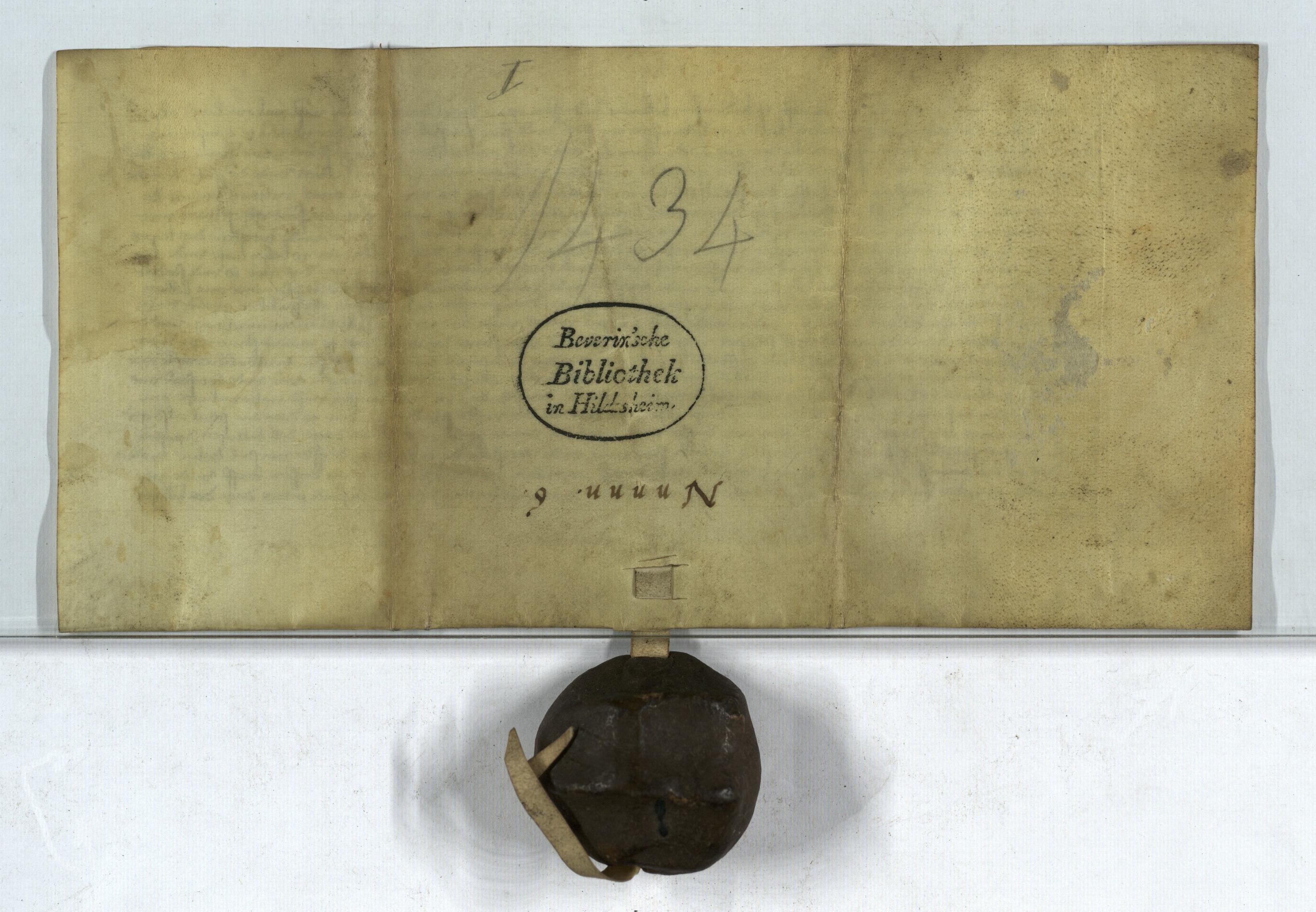 x
We Eggerd van dem Hanenzee, domprovest to Hildensem, bekennen in dussem opene breve vor uns unde unse nakomelinge, alze de ersame here her Borcherd Steynhoff, kelner to Hildensem, vor seek unde sine totestere de helfte der molen to Honsen myt aller tobehoringe unde rechticheyt, de he dar anne hadde, Hinrike Vrymanne, nu to tyden penningescrivere tom dome to Hildensem, sinen erven unde totesteren vorkoft unde vor unsem gerichte gensliken vorlaten unde vortegen hebben unde dem genanten Hinrike unde sine erven unde totestere in de helfte der sulven molen myt rechte gesad sint na utwisinge eynes richtersbreves, de dar over ghegheven is, desse vorscrevene kop der ergenanten halven molen, vorlatinge unde insettinge, sint ghescheen myt unsir witschop, vulborde unde guden willen, unde wy willen des vorscrevenen Hinrikes, siner erven unde totestere des kopes, vorlatinge unde insettinge here unde rechte ware wesen to der helfte der vorscrevenen molen unde orer tobehoringe, unde one vullenkomeliken behulplik unde bystendich wesen na inholde ores breves, wur unde wanner one des not is unde see dat van uns eschen. Unde de vorbenomde Hinrik, sine erven unde totestere unde we de anderen helfte der sulven molen myt one hebben, de schullen sammet van der gantzen molen uns unde unsen nakomelingen domprovesten to Hildensem allejarlikes gheven unde betalen uppe sunte Michahelis dage eyn voder unde vyff schepel wetes, unde darna uppe jowelken Winachten unde jowelken Paschen eyn voder unde vyff schepel wetes, unde darna uppe sunte Johannis dage to Middensommer eyn voder unde vyff schepel wetes, dat is jo des jares vyfftehalf voder wetes. Dyt vorscrevene korn schullet see truweliken malen ane metten, dar me unsen heren to deme dome to Hildensem provendebrot aff becket. Ok schullet see unde ore erven unde totestere uns unde unsen nakomelingen alle jar mesten vyff wol gewassener swine, der schulle wy unde vorscrevene unse nakomelinge one vere antwerden in sunte Cosme unde Damiani dage edder dar by, unde dat vyffte schullet see dar to don, dat schal also gud sin alse der verer eyn, de schullet see mesten van dusser vorscrevenen tyd an wente to sunte Thomas dage des hilligen apostels. Dussen vorscrevenen stucken schullen dusse vorscrevene Hinrik, sine erven unde totestere de helfte van dusser vorscrevenen halven molen don. Des to bekantnisse hebbe wy Eggerd ergenant unse ingesegel witliken ghehenghet heten an dussen breff, unde is ghegheven na godes bort Veyrteynhundert jar darna in dem veerundedrittigesten jare, in sunte Peters dage des hilligen apostels.
A click on the button »Show annotation« displays all annotations on the selected charter image. Afterwards you are able to click on single annotations to display their metadata. A click on »Open Image Editor« opens the paleographical editor of the Image Tool.