Charter
: Urkunden Domkapitel (1246-1606) A VI 5 [1]
Add bookmark
Edit charter (old editor)
1439 April 17
Der Gerichtsvogt des Dompropstes Eckart von Hahnensee Konrad Orberg bezeugt, dass vor ihm im gehegten Gericht der Pfennigschreiber am Dom in Hildesheim Heinrich Freimann die ganze Mühle in +Hohnsen an den Bürger Bertold von Weverlingen verkauft hat, mit Ausnahme von zwölf rheinischen Gulden jährlichen Zinses, je zur Hälfte zu Michaelis und zu Ostern auszuzahlen, der Walke- und der Kupfermühle, des Neuen Werders und des Hopfenberges unter Pfeffersacks Garten, die er sich auf Lebenszeit vorbehält. Fürsprech im Gericht war Henning Reyneke, Dingleute waren Heinrich Stelter und Vissan von Betheln.  
Material: 
Perg.
Dimensions: 
27,3 x 16,0 cm
Graphics: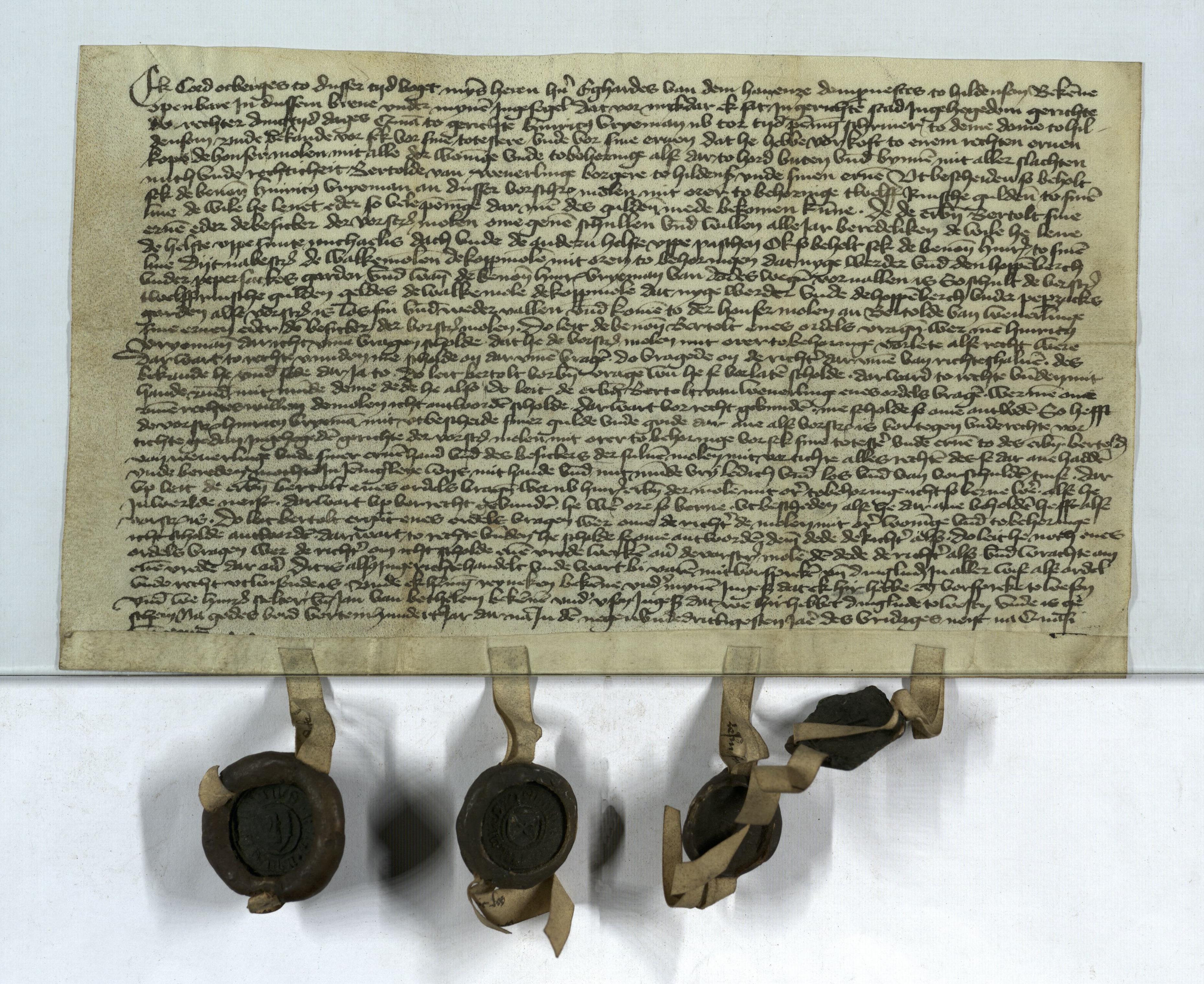 x
Ek Cord Orberges, to dusser tyd voget myns heren hern Eghardes van dem Hanenze, domprovestes to Hildensem, bekenne openbare in dussem breve under mynem ingesegel, dat vor mik, dar ek sat in gerichtestad in gehegedem gerichte to rechter dingtyd dages, quam to gerichte Hinricus Vryeman, nu tor tyd penningschriver to deme dome to Hildensem, unde bekande vor sek, vor sine totestere unde vor sine erven, dat he hebbe vorkoft to enem rechten ervenkope de Honser molen mit alle der woninge unde tobehoringe alse dar to hord, buten unde bynnen mit aller slachten nuth unde rechticheit Bertolde van Weverlinge, borgere to Hildensem, unde sinen erven, utbescheiden so beholt sek de benande Hinricus Vryeman an dusser vorschrevenen molen mit orer tobehoringe twelff Rinsche gulden to sinem live, de wile he levet, eder so vele penninge, dar men des gulden mede bekomen kunne, de de erbenomde Bertolt, sine erven eder de besitter der vorscrevenen molen ome geven schullen unde willen alle jar beredeliken de wile he leve, de helfte uppe sunte Michaelis dach unde de andern helfte uppe Paschen. Ok so behelt sek de benande Hinrik to sinem live dyt nabescrevene: de walkemolen, de koppermolen mit oren tobehoringen, dat nyge werder unde den hoppenberch under Pepersackes garden, unde wanne de benande Hinrik Vryeman van dodes wegen vorvallen is, so schult de vorscrevene twelff Rinsche gulden geldes, de walkemole, de koppermole, dat nyge werder unde de hoppenberch under Peperzacks garden alse vorscreven is los sin unde weder vallen unde komen to der Honser molen an Bertolde van Weverlinge, sine erven eder den besitter der vorscrevenen molen. Do leit de benomde Bertolt enes ordels vragen, wer men Hinricus Vryemann dar icht umme vragen scholde, dat he de vorscrevene molen mit orer tobehoringe vorlete alse recht were. Dar wart to rechte vunden, me scholde on dar umme vragen. Do vragede on de richter dar umme van richteshalven, des bekande he unde sede dar ja to. Do leit Bertolt vorbenomt vragen, wu he se vorlaten scholde. Dar ward to rechte vunden, mit hande unde mit munde, deme dede he also. Do leit de erbenomde Bertolt van Weverling enes ordels vragen, wer men one umme rechtes willen de molen icht antworden scholde. Dar wart vor recht gevunden, me scholde se ome antwerden. So hefft de vorscrevene Hinricus Vryeman mit utbescheide siner gulde unde goide dar ane alse vorscreven is vortegen unde rechte vortichte gedan in gehegedem gerichte der vorscrevenen molen mit orer tobehoringe vor sek, sine totestere unde erven to des erbenomden Bertoldes van Weverlinge unde siner erven hand unde des besitters der sulven molen mit vortichte alles rechten, des se dar ane hadden unde bereden mochten in jennigerleye wys mit hande unde mit munde, vry, ledich unde los unde van vorschulden tinse. Dar up leit de erbenomde Bertolt enes ordels vragen, wer nu Hinrik erbenomd der molen mit orer tobehoringe icht so verne were, alse he in werlde neist. Dar wart up vor recht gevunden, he were ore so verne, utbescheden alse he dar ane beholden hefft, alse vorscreven is. Do leit Bertolt ergenant enes ordels vragen, wer ome de richter de molen mit orer woninge unde tobehoringe icht scholde antworden. Dar wart to rechte vunden, he scholde se ome antworden, deme dede de richter also. Do leit he noch enes ordels vragen, wer de richter om icht scholde enen vrede werken over de vorscrevene molen, dem dede de richter also unde wrachte om enen vrede dar over. Dit is alsus in gerichte handelt unde wart bivaren mit vorspreken unde dingluden in aller wise, alse ordel unde recht utloisende is. Unde ek Henning Reyneken bekenne under mynem ingesegel, dat ek hir hebbe eyn vorspreke to wesen, unde we Hinrik Stelter, Vissan van Bethelem bekennen under usen ingesegelen, dat we hir hebbet dinglude to wesen, unde is geschein na godes bord Verteinhundert jar darna in dem negenundedrittigesten jare, des vridages neist na Quasimodogeniti.
A click on the button »Show annotation« displays all annotations on the selected charter image. Afterwards you are able to click on single annotations to display their metadata. A click on »Open Image Editor« opens the paleographical editor of the Image Tool.