Charter
: Urkunden Domkapitel (1246-1606) A V 11 [1]
Add bookmark
Edit charter (old editor)
1471 November 28
Dompropst Eckhard, Schulmeister Simon und das Domkapitel in Hildesheim verkaufen den Domvikaren dort einen jährlichen Zins von zehn rheinischen Gulden für ein Kapital von 200 Gulden, das sie von ihnen aufgenommen haben. Das Geld ist der Nachlass der Witwe von Konrad Noke; sollten sie den Zins wieder ablösen zu Michaelis nach vorheriger Kündigung zu Johannis Baptiste, so wollen sie den Vikaren helfen, die Summe wieder auf Zinsen anzulegen, damit gemäß dem Willen der Witwe der Gottesdienst damit gefördert würde.  
Material: 
Perg.
Dimensions: 
26,5 x 19,6 cm
Graphics: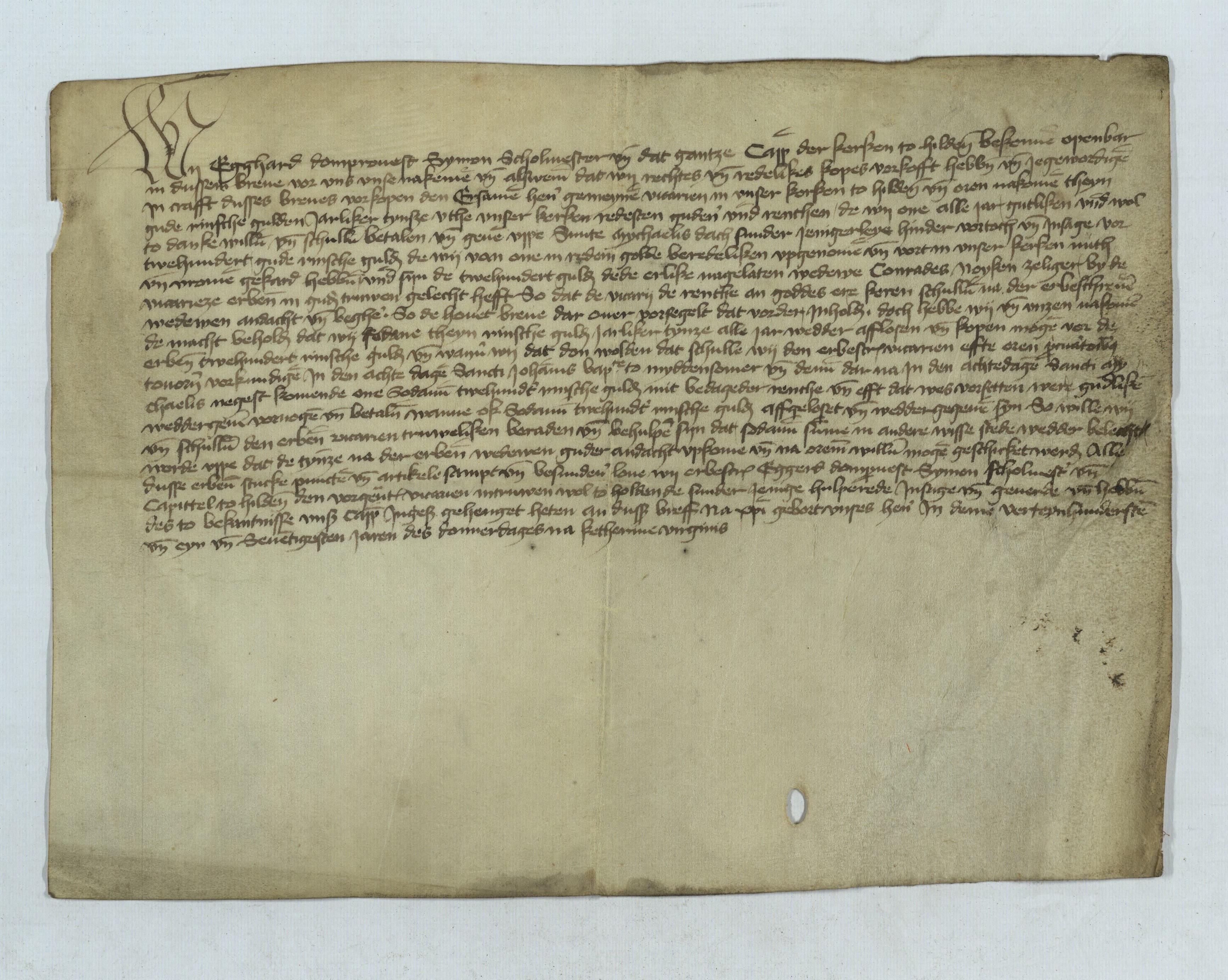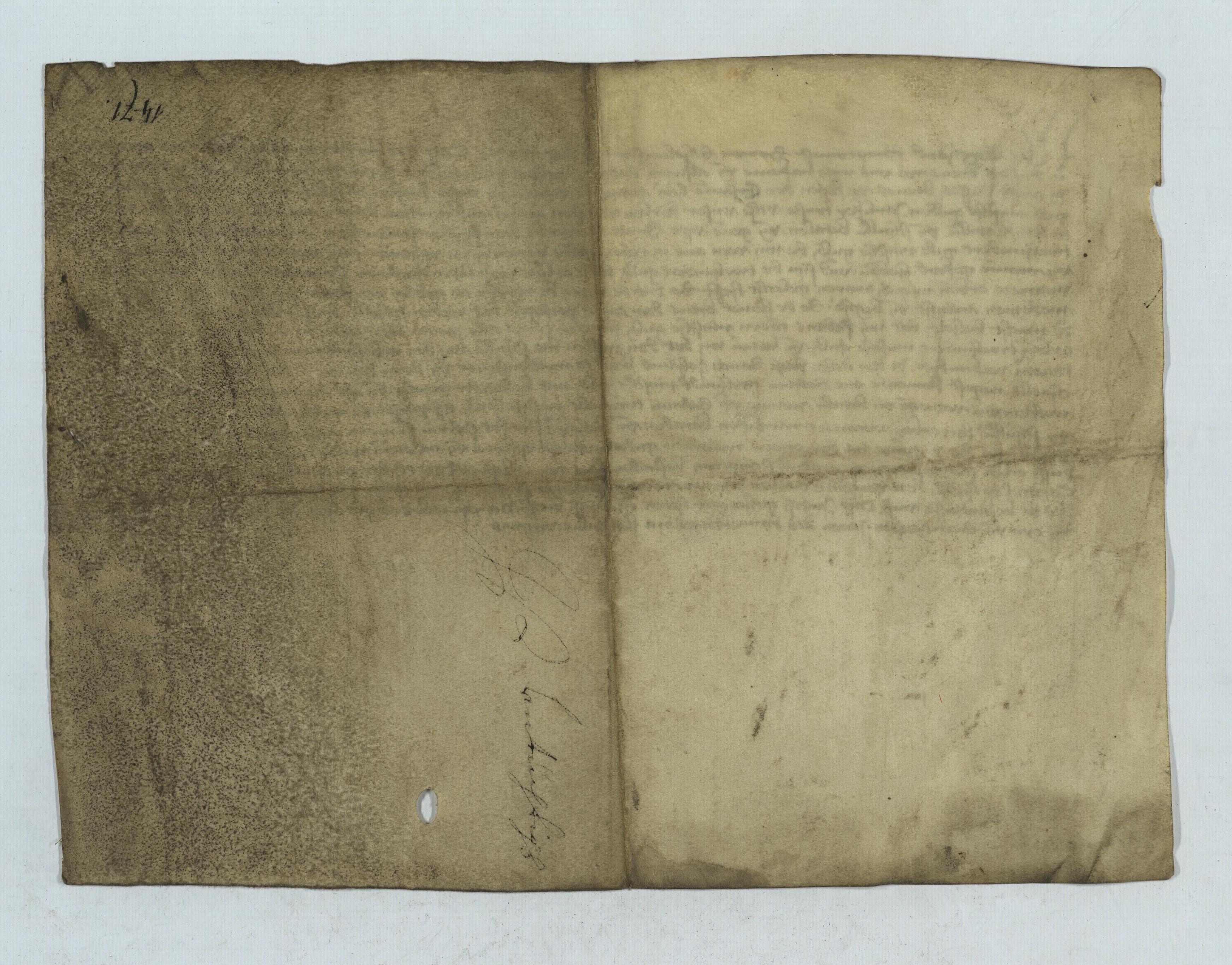 x
Wy Egghard domprovest, Symon scholmester unde dat gantze cappitel der kerken to Hildensem bekennen openbar in dussem breve vor uns, unse nakemen unde alsweme, dat wy rechtes unde redelikes kopes vorkofft hebben unde jegewordigen in crafft dusses breves vorkopen den ersamen heren gemeynen vicarien in unser kerken to Hildensem unde oren nakomen theyn gude Rinsche gulden jarliker tynße uthe unser kerken redesten guderen unde renthen, de wy one alle jar gutliken unde wol to danke willen unde schullen betalen unde geven uppe sunte Mychaelis dach sunder jenigerleye hinder, vortoch unde insage, vor twehundert gude Rinsche gulden, de wy van one in redem golde beredeliken upgenomen unde vort in unser kerken nuth unde vromen gekard hebben, unde syn de twehundert gulden, de de erlike nagelaten wedewe Conrades Noyken zeliger by de vicarieze erbenomt in guden truwen gelecht hefft, so dat de vicarii de renthe an goddes ere keren schullen na der erbeschreven wedewen andacht unde beghere, so de hovetbreve darover vorsegelt dat vorder inholdet. Doch hebbe wy [!] unde unzen nakomen de macht beholden, dat wy sodane theyn Rinsche gulden jarliker tynze alle jar wedder afflosen unde kopen mogen vor de erbenomden twehundert Rinsche gulden, unde wann wy dat don wolden, dat schulle wy den erbescrevenen vicarien effte oren procuratoribus tovoren vorkundigen in den achte dagen sancti Johannis Baptiste to myddensomer, unde denn darna in den achte dagen sancti Mychaelis negestkomende one sodanne twehundert Rinsche gulden mit bedageder renthe unde efft dat wes vorsetten were gudliken weddergeven, vornogen unde betalen. Wanne ok sodanne twehundert Rinsche gulden affgeloset unde weddergegeven syn, so wille wy unde schullen den erbenomden vicarien truweliken beraden unde behulpen syn, dat sodanne summe in andere wisse stede wedder belecht worde, uppe dat de tynze na der erbenomden wedewen guder andacht upkome unde na oreme willen mogen geschicket werden. Alle dusse erbenomden stucke, puncten unde artikele sampt unde besunderen love wy erbescrevene Eggerd domprovest, Symon scholmester unde capittel to Hildensem den vorgenanten vicarien in truwen wol to holdende sunder jenige hulperede, insage unde geverde, unde hebben des to bekantnisse unses cappitels ingesegel gehenget heten an dussen breff, na Christi gebort unses heren in deme Verteynhundersten unde eynundeseventigesten jaren, des donnerdages na Ketherine virginis.
||
||
[Vermerk s. XVII i auf der Rückseite:] Ist untüchtig.
A click on the button »Show annotation« displays all annotations on the selected charter image. Afterwards you are able to click on single annotations to display their metadata. A click on »Open Image Editor« opens the paleographical editor of the Image Tool.