Charter
: Illuminierte Urkunden 1283-11-99_Paris-Paris
Signature
: 1283-11-99_Paris-Paris
1283-11-99 (vers le 4),
Souvigny
König Philipp [III.] von Frankreich
erteilt seine Zustimmung (
concedimus et approbamus
) zu einer von Gui Mauvoisin, Herr von Rosny-sur-Seine, und von seiner Frau Isabella von Mello ausgestellten und inserierten Urkunde vom Mai 1283 bezüglich des Holzschlages durch die Herren von Rosny im Wald von Chevrie und bestätigt (
confirmamus
) diese.
Markus Gneiss
Confirmation par Philippe le Hardi d'un règlement fait par Gui Mauvoisin, seigneur de Rosny, pour la coupe des bois de la forêt de Chévry.
(source:
Archives
)
Source Regest: FWF Projekt P 26706-G21 "Illuminierte Urkunden"
FWF Projekt P 33577-G "Macht und Diplomatie"
Bearbeitungsstand: HOCH
Original
Current repository
: 
Paris, Archives nationales, K 35, no 8 (ehem.: AE/II/290)
Siegel: Majestätssiegel (grünes Wachs) an rot-grünen Seidenfäden.
Material: 
Pergament
notes extra sigillum

: 

Mittelalterlicher Rückvermerk (das Jahrhundert geht nicht genauer aus Brunel, Images, S. 60, hervor, keine Abb. der Rückseite): XIIa // De eo quod non possint vendi annuatim ultra quam CCta arpenta nemorum in foresta de Chevrie. Istam cartam tradidit nobis Guido Mauvoisin miles, dominus de Roni, custodiendam ut faceremus observare predictam et propter hoc dedit nobis annuatim quondam cervum in festivitate Beati Dyonisii reddendum.
Graphics: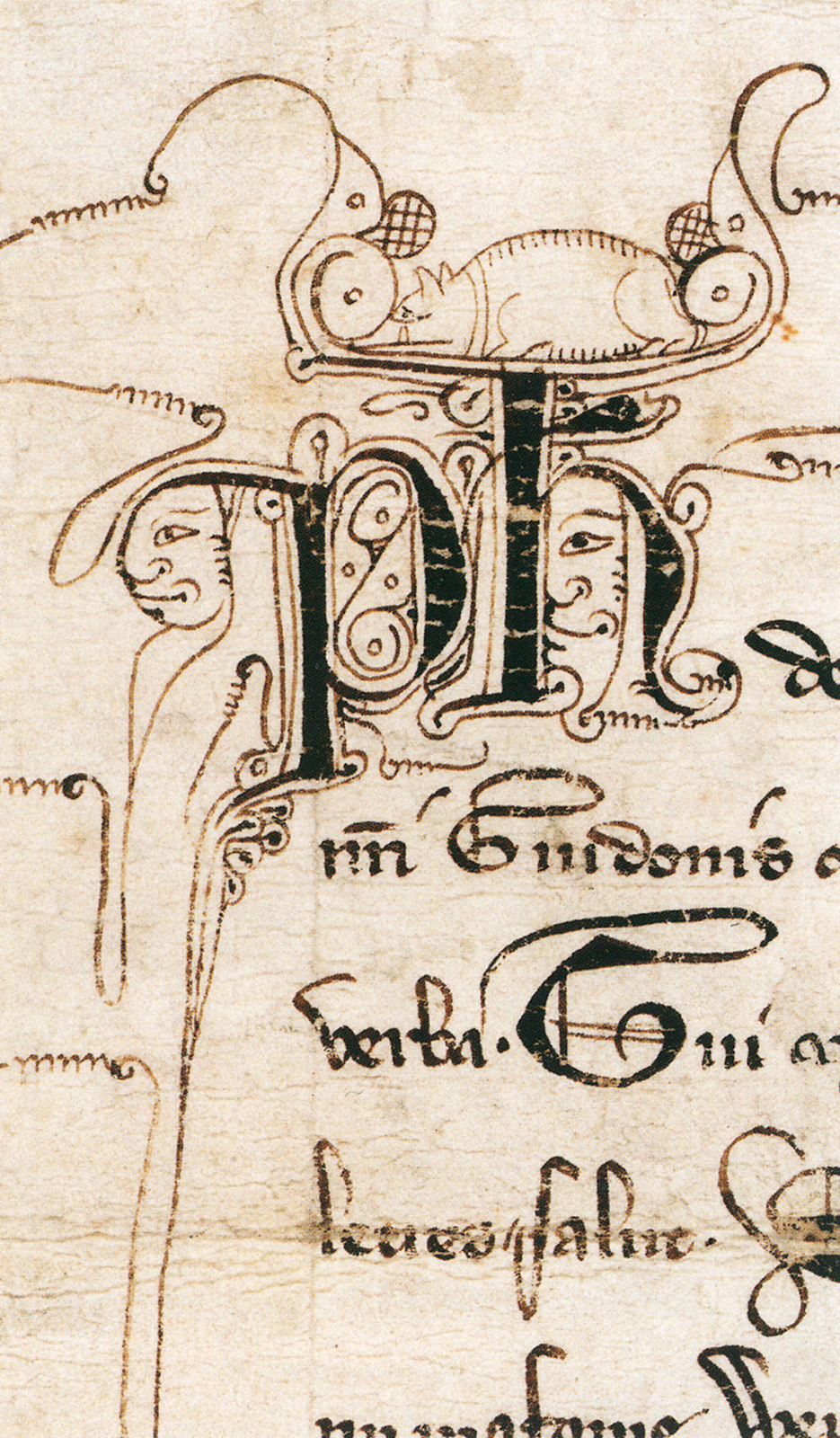 Current repository
: 
kopial: Paris, Archives nationales, LL 1157, no. XII. S. 337f.
x
Materielle Beschreibung: 


Die Initialen "Ph" mit Fleuronnée. Im Binnenfeld des "h" ein seltsam verformtes Profilgesicht, ein zweites im Abschwung des "P", auf dem "h" ein Wildschwein (Giry hatte in dem Tier eine Ratte gesehen). Auch der erste Buchstabe nach der Intitulatio (N[otum facimus]) mit minimalem Fleuronnée. Dies und weitere schriftnahe Dekorelemente zeigen, dass Zeichner und Schreiber derselbe sind.

Stil und Einordnung: 


Eine Urkunde des Philippe le Hardi: Während die Urkunde einen Bezug zu Wald aufweist und so die Darstellung des Wildschweins zumindest assotiativ rechtfertigt, fehlt ein derartiger Bezug bei den anderen Vergleichsbeispielen.
Für Jeay ( Images du pouvoir, 2013, S. 59 und Signature et pouvoir, 2015, S. 75) war dies die erste illuminierte Urkunde, die ein französischer König ausgestellt hat. Diese Ansicht ist inzwischen durch weitere, frühere Funde widerlegt. Vornehmlich das Wildschwein mit dem Balken über dem "h", aber auch die Profile reihen diese Initialen in das Werk des Zeichners mit dem Wildschwein ein. Im Vergleich zur ähnlich gestalteten Urkunde vom Dezember 1281 sind die Ph-Initialen durch die figurativen Elemente üppiger gestaltet, der Dekor der N-Initiale aber ist nahezu gleich geblieben.
Gabriele Bartz
x
Persons
König Philipp [III.] von Frankreich
Keywords
Illuminated Charters: Niveaus:
Glossary of illuminated charters (in German):

Die Kanzlei unter Philippe III

Zeichner mit dem Wildschwein
x
A click on the button »Show annotation« displays all annotations on the selected charter image. Afterwards you are able to click on single annotations to display their metadata. A click on »Open Image Editor« opens the paleographical editor of the Image Tool.