Charter
: Illuminierte Urkunden 1284-09-01_Mainz
Signature
: 1284-09-01_Mainz
Bischofsammelindulgenz für den von Propst, Dekan und Kapitel beabsichtigten Bau (Erweiterung) der
Kapitelkirche

Mariengreden
einen Ablass von 40 Tagen. Als Ablasstage sind Weihnachten, Ostern, Himmelfahrt und Pfingsten, an den Marienfesten, an Allerheiligen, Kirchweihe, am St. Ulrichsfest und in den Oktaven dieser Feste genannt. Gefordert wird die Kirche in frommer Absicht besuchen und zum Bau beizusteuern. Als Aussteller fungierten die Erzbischöfe
Reinald von Messina
(
Messanensis
) und
Peter von Oristano
(
Arborensis
) sowie die Bischöfe
Guido von Pavia
(
Papiensis
),
Peter von Arles
(
Arelanensis
),
Friedrich von Sinigaglia
(
Senogaliensis
),
Gevehardus von Brandenburg
(
Brandeburgensis
),
Andreas von Oslo
(
Asloensis
),
Fredolus von Le Puy
(
Anniciensis
),
Bonus Johannes von Ascoli
(
Esculanensis
),
Bernhard von Umana
(
Humanas
) und
Robertus von Ross
(
Rossensis
).
Source Regest: FWF Projekt P 26706-G21 "Illuminierte Urkunden"
Bearbeitungsstand: HOCH
Original
Current repository
: 
Mainz,
Stadtarchiv, Urkunden (Best. A 2),
Nr. 159/36
Graphics: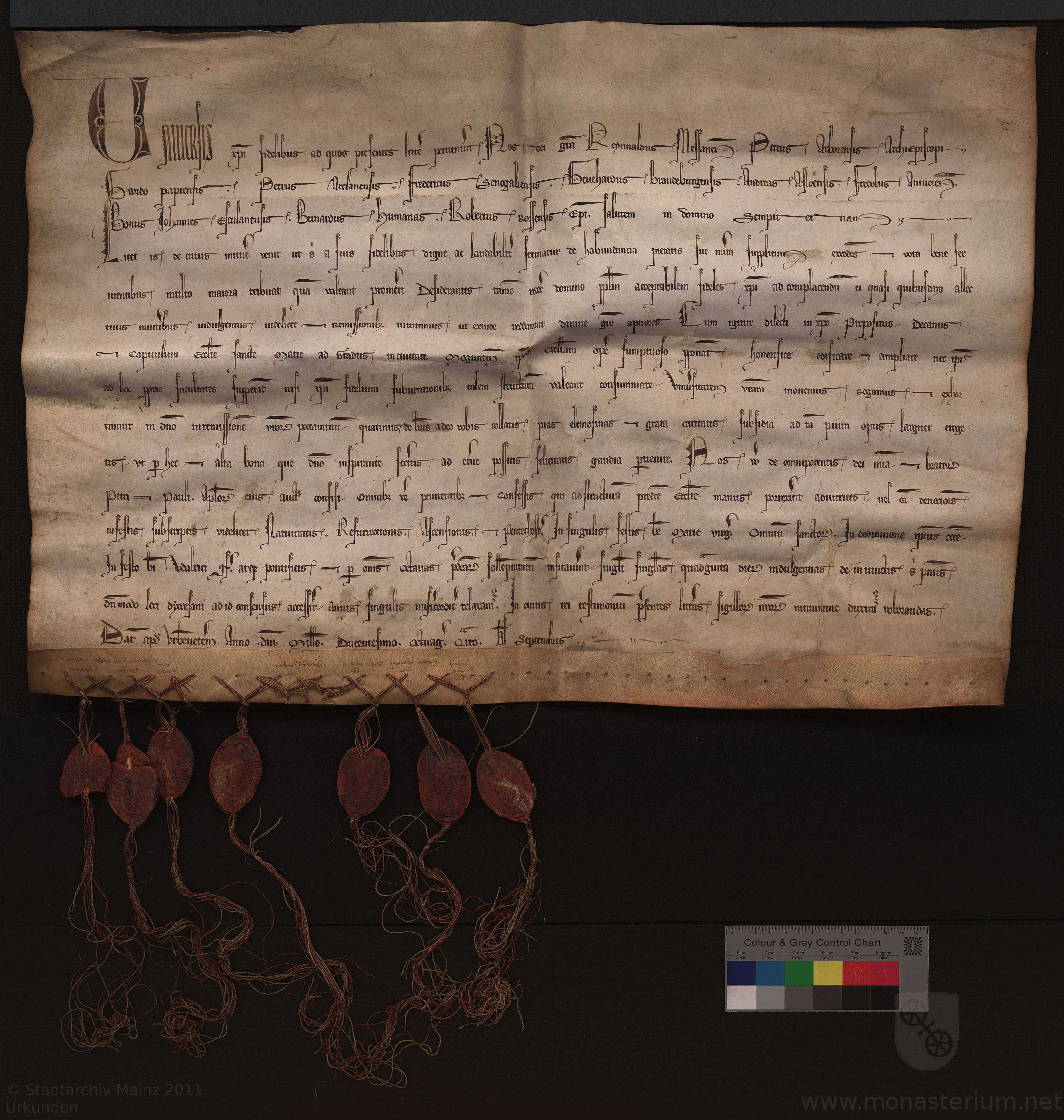 x
Materielle Beschreibung: 


Voravignoner Bischofsammelindulgenz: Vergrösserte tintenfarbige Initiale U(niversis) mit kopfstempelförmiger Aussparung. (U)niversis in vergrösserten Majuskeln. Initiale L(icet), wohl weil am Zeilenbeginn, zwei Zeilen hoch.

Stil und Einordnung: 


Dieser Sammelablass ist der bisher erste bekannte, der (U)niversis in Auszeichnungsschrift wiedergibt. Es ist deutlich erkennbar, dass für dieses Wort ein Spatium frei gelassen wurde, es ist in derselben, helleren Tinte geschrieben worden, wie L(icet). Ob der Schreiber des Formulars auch diese dekorativeren Buchstaben gezeichnet hat, ist ungewiss.
Gabriele Bartz, Martin Roland
x
Places
Civitaveccia
Deutschland
Italien (Kurie)
Mariengreden
Sachsen-Anhalt
Persons
Andreas von Oslo
Bernhard von Umana
Bonus Johannes von Ascoli
Fredolus von Le Puy
Friedrich von Sinigaglia
Gevehardus von Brandenburg
Guido von Pavia
Peter von Arles
Peter von Oristano
Reinald von Messina
Robertus von Ross
Keywords
Illuminated Charters: Niveaus:
Illurk-Urkundenart:
Glossary of illuminated charters (in German):

Voravignoner Bischofsammelindulgenz
x
A click on the button »Show annotation« displays all annotations on the selected charter image. Afterwards you are able to click on single annotations to display their metadata. A click on »Open Image Editor« opens the paleographical editor of the Image Tool.