Charter
: Illuminierte Urkunden 1287-03-14_Wien
Signature
: 1287-03-14_Wien
Bischofsammelindulgenz (8 Aussteller) für die
Kapelle in

Gerolding
.
Source Regest: FWF Projekt P 26706-G21 "Illuminierte Urkunden"
Bearbeitungsstand: MITTEL
Original
Current repository
: 
Wien,
Haus- Hof- und Staatsarchiv
Graphics: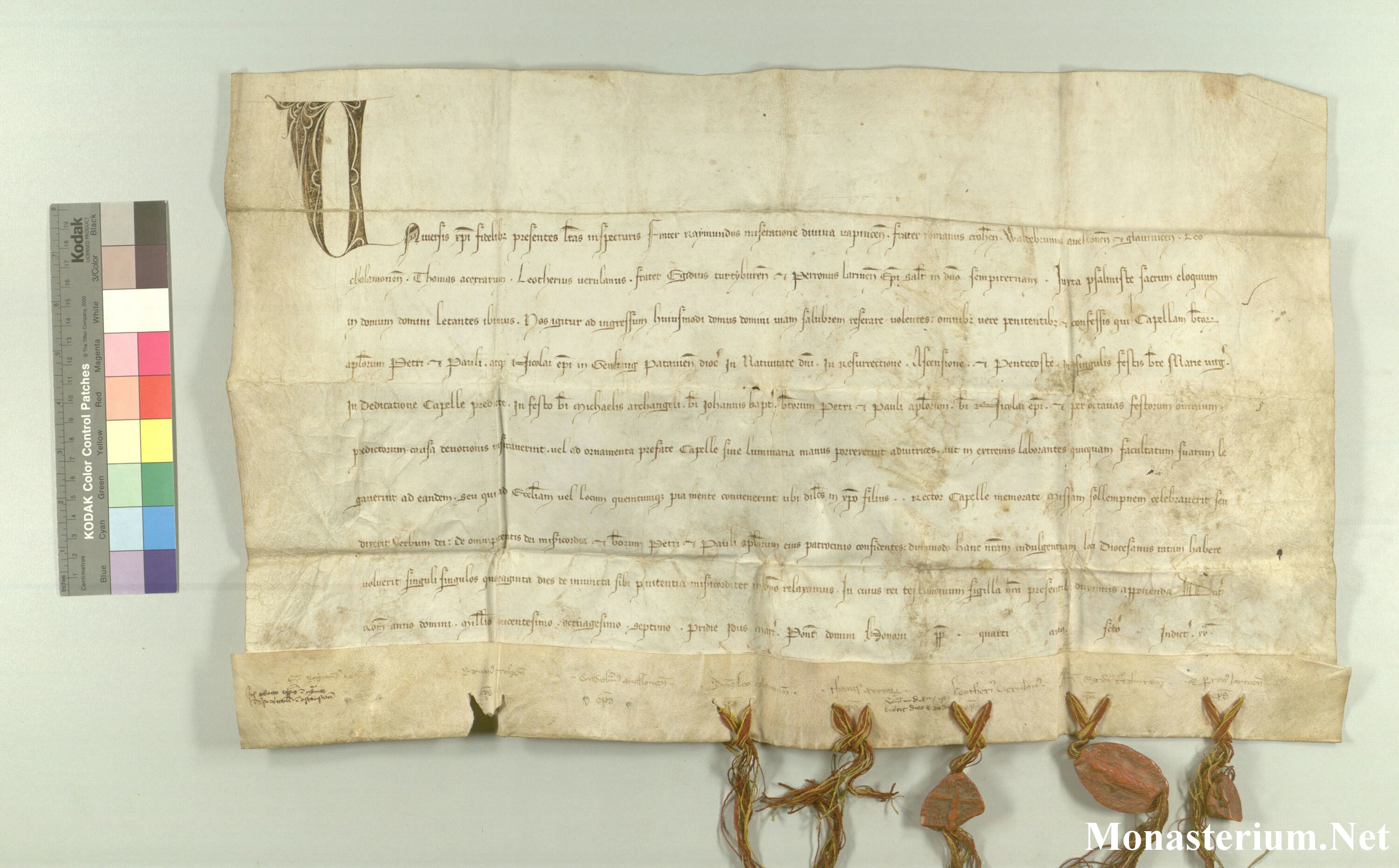 x
Materielle Beschreibung: 


Voravignoner Bischofsammelindulgenz: Bis zum oberen Rand vergrösserte schmale tintenfarbige Initiale U(niversis) mit kopfstempelförmiger Aussparung, der Zwickel links oben mit Aussparungen gefüllt. Die Höhe der U-Initiale ist durch einen frei gezogenen Balken festgelegt worden.

Stil und Einordnung: 


Der gleiche Schreiber hat auch 1287 Februar 28 für Göttweig und 1287 März 21 für Regensburg gearbeitet. Man erkennt ihn an der Zwickelfüllung links oben. Der frei gezogene Balkenstrich, der die Initialhöhe festlegt, erscheint jedes Mal.
Martin Roland (Roland, Zajic, Illuminierte Urkunden, 2013, S. 307) erkannte auch bei 1290 August 23 für Heiligenkreuz denselben Schreiber.
Gabriele Bartz
x
Universis Christi fidelibus presentes litteras inspecturis frater Raymundus miseratione divina Vapincensis, frater Romanus Crohensis, Waldebrunus Avellonensis et Glavinicensis, Leo Chalamonensis, Thomas Acerrarum, Leotherius Verulanus, frater Egidius Turtyburensis et Perronus Larinensis, episcopi, salutem in domino sempiternam. Iuxta psalmiste sacrum eloquium: ,in domum domini letantes ibimus', nos igitur ad ingressum huiusmodi domus domini viam salubrem reserarea volentes omnibus vere penitentibus et confessis, qui capellam beatorum apostolorum Petri et Pauli atque Nicolai episcopi in Gerolting, Pataviensis diocesis, in nativitate domini in resurrectione ascensione et pentecoste, in singulis festis beate Marie virginis, in dedicatione capelle predicte, in festo beati Michaelis archangeli, beati Johannis baptiste, beatorum Petri et Pauli apostolorum, beati Nicolai episcopi et per octavas festorum omnium predictorum causa devotionis visitaverint vel ad ornamenta prefate capelle sive luminaria manus porrexerint adiutrices aut in extremis laborantes quicquam facultatum suarum legaverint ad eandem seu qui ad ecclesiam vel locum quemcumque pia mente convenerint, ubi dilectus in Christo filius . . rector capelle memorate missam sollempnem celebraverit seu dixerit verbum dei, de omnipotentis dei misericordia et beatorum Petri et Pauli apostolorum eius patrocinio confidentes, dummodo hanc nostram indulgenciam loci diocesanus ratam habere voluerit, singuli singulos quadraginta dies de iniuncta sibi penitentia misericorditer in domino relaxamus. In cuius rei testimonium sigilla nostra presentibus duximus apponenda. Datum Rome anno domini millesimo ducentesimo octuagesimo septimo pridie idus martii, pontificatus domini Honorii pape quarti anno secundo, indictione XV (nach HHStA).
Comment
Auf der Plica die Namen der Siegler vermerkt:
frater Raymundus Vapincensis episcopus, Romanus Crohensis episcopus, Waldebrunus Avellonensis episcopus, Dominus Leo Calamonensis episcopus, Thomas Acerrarum episcopus, Leotherius Verulanus episcopus, frater Egidius Turtiburensis episcopus, et Perronus Larramensis episcopus
(nach HHStA).
Places
Gerolding
Italien (Kurie)
Niederösterreich
Rom
Österreich
Keywords
Illuminated Charters: Niveaus:
Illurk-Urkundenart:
Glossary of illuminated charters (in German):

Voravignoner Bischofsammelindulgenz
x
A click on the button »Show annotation« displays all annotations on the selected charter image. Afterwards you are able to click on single annotations to display their metadata. A click on »Open Image Editor« opens the paleographical editor of the Image Tool.