Charter
: Illuminierte Urkunden 1317-05-99_Paris-Paris
Signature
: 1317-05-99_Paris-Paris
1317-05-99,
Le Val-Coquatrix ("apud Vallem Coquatrici")
König Philippe [V., (le Long)] von Fankreich und Navarra
bestätigt (
confirmamus
) seinem Ritter (
miles noster
) Jean de Courpalay die Übertragung der Gerichtsbarkeit in dessen Herrschaftsgebiet Courpalay
(in terra sua de Courpalayo
), in der gleichnamigen Stadt, in La Chapelle-Iger (
capella Ygerii
) und in Cramayel (
Cramonel
); weiters überträgt (
concedimus et donamus
) er ihm gegen eine jährliche Zahlung von 50 Pfund von Tours (
libris turonensium
) alle Lehnsrechte und Einkünfte aus verschiedenen Gebieten, namentlich aus dem Besitz des verstorbenen Philipp "de Granchia",weiters aus dem Besitz von Gottfried von Cordoux, von Johannes von Bernay-Vilbert (
Berneyo
[…]
Villebart
] und aus seinem eigenen Besitz in den Pfarren Nesles-la-Gilberte (
Neelle
), Le Breuil (
Brolio
), Changeard (
Changaart
) und Ozouer–le–Voulgis (
Ororio le Bougis
).
Markus Gneiss
Source Regest: FWF Projekt P 26706-G21 "Illuminierte Urkunden"
FWF Projekt P 33577-G "Macht und Diplomatie"
Bearbeitungsstand: HOCH
Original
Current repository
: 
Paris, Archives nationales, J 396, no 18
Es wird ein aufgedrücktes Siegel angekündigt, das Siegel des Ausstellers ist aber an rot-grünen Seidenfädeen angehängt.
Material: 
Pergament
notes extra sigillum

: 

- auf der Plica: (links, Auftragsvermerk): per dominum .. regem ad rel(ationem) magistri Philippi Conversi; (rechts, Sekretärsvermerk?): Parquerius.
- Rückvermerke (14. Jh.): X; XVII; MCCCXVII; Registrata est // Exhibita in festo Beato Remigii anno XXIIo; G. Julioti.
Graphics: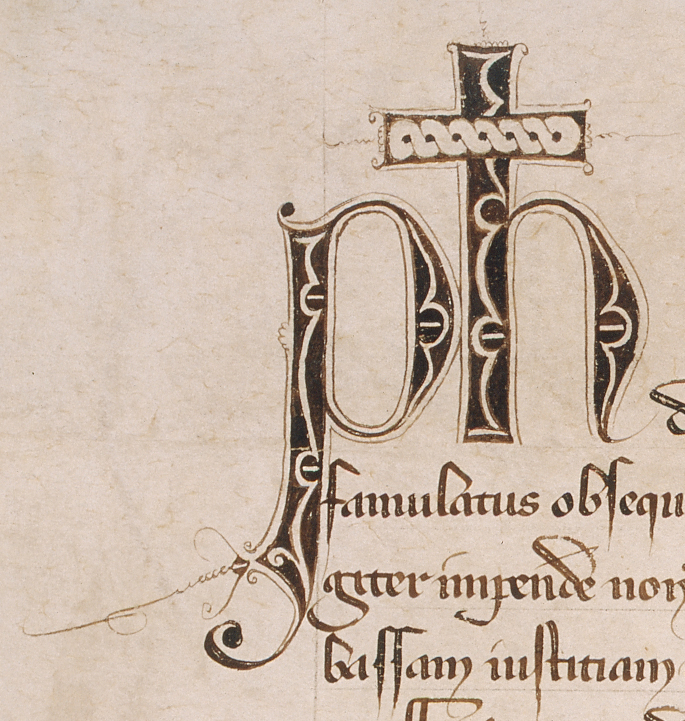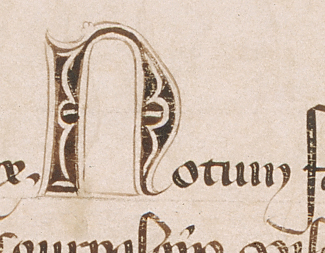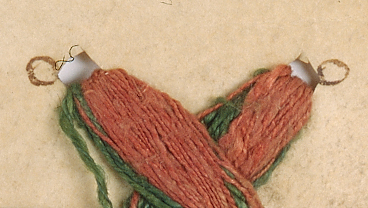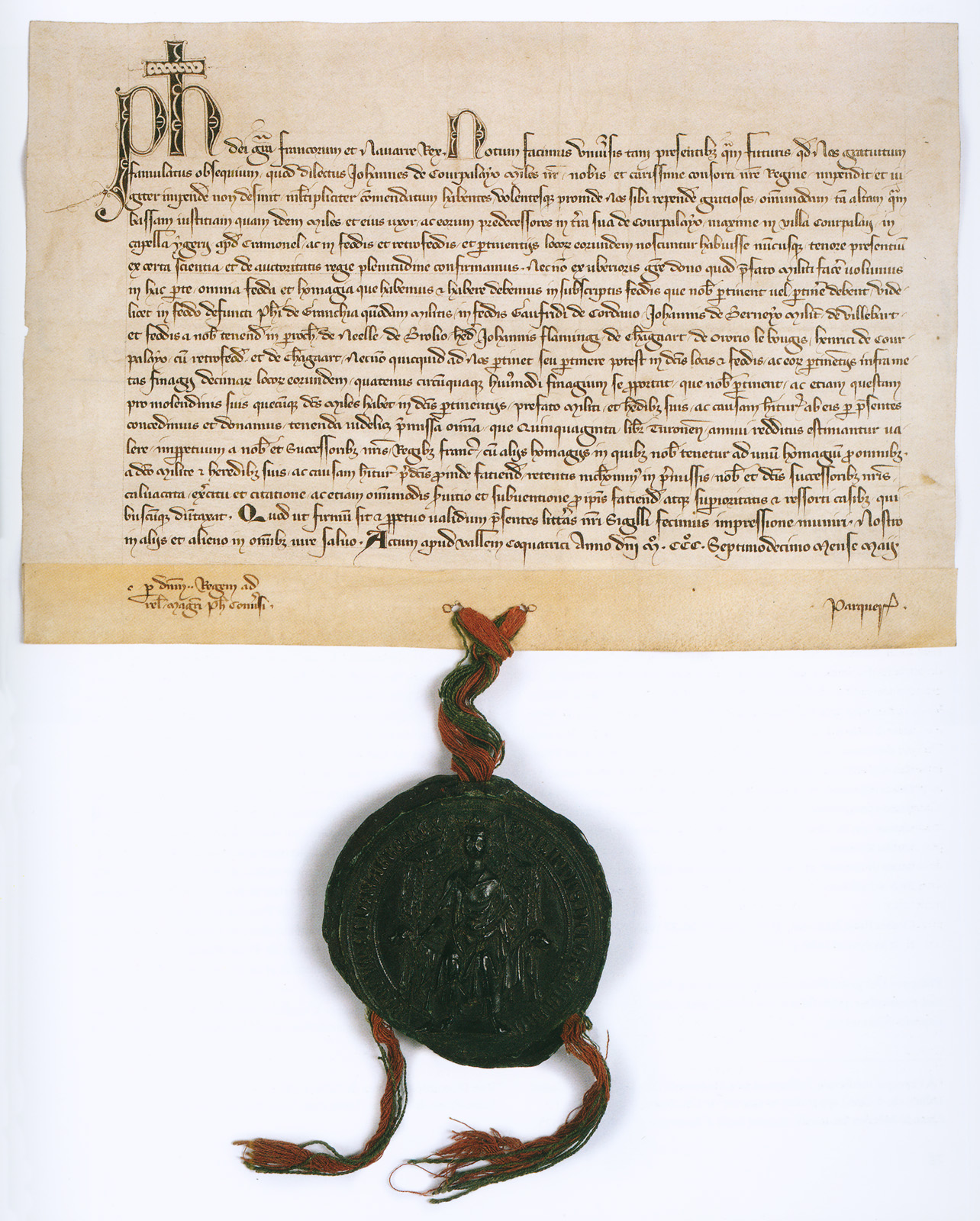 Current repository
: 
Kopial: Paris, Archives nationales, JJ 53, fol. 71v, Nr. 167.
x
Materielle Beschreibung: 


Stark vergrösserte, gespaltene Initialen "Ph", das "h" mit kreuzendem Balken der Abbreviatur: diese mit Wellenbandaussparung. In der ersten Zeile Initiale N(otum) mit Aussparungen. Ornament aus zwei (?) Scheiben auf der Plica, die den Ort der Siegelanbringung markieren.

Stil und Einordnung: 


Eine Urkunde des Philippe V: Alle drei Initialen sind mit dem gleichen Muster dekoriert, wodruch ein klarer und eleganter Eindruck entsteht. Die Idee, die Ph-Abbreviatur mit einem Kreuzbalken zu versehen und sie so gleichsam zu einem ikonographischen Zeichen zu erweitern, ist unter Philippe le Bel entwickelt worden.
Dieser Schreiber/ Zeichner möchte eventuell eine weitere Urkunde vom März 1321 dekoriert haben, sicher aber hat er für Charles le Bel am 2. Dezember 1323 gearbeitet; somit also ein weiterer Beweis, wie stark die Kontinuitäten in der Kanzlei unabhängig vom jeweiligen Regententen waren.
Gabriele Bartz
x
Bibliography
: 
Brunel, Images, 2005, S. 74–76, Nr. 5 (mit Abb., Edition, Übersetzung und Kommentar). (Volltitel auf Zotero)
Facsimile
: 
Wir danken Jean-François Moufflet von den Archives nationales für die freundliche Überlassung der Fotos.
Places
Frankreich
Le Val-Coquatrix ("apud Vallem Coquatrici")
Persons
König Philippe [V., (le Long)] von Fankreich und Navarra
Keywords
Illuminated Charters: Niveaus:
Glossary of illuminated charters (in German):
General: 

PhilippeVUrkunde des Philippe V
x
A click on the button »Show annotation« displays all annotations on the selected charter image. Afterwards you are able to click on single annotations to display their metadata. A click on »Open Image Editor« opens the paleographical editor of the Image Tool.